Tigers Football 2019
UPDATE - Tue, Sep 3, 2019
Thank you to all of the junior student/athletes who came to our meeting today - numbers were very promising and the coaches are super excited by the prospect of running a junior team this year!
We will be having a second short meeting tomorrow on the field at 3:00 for both senior and junior players, followed by a shorts/t shirt practice for anyone with completed health forms. Our goal is to have two full teams registered by end of the day Thursday with equipment handout to follow.
In order to receive your equipment you must bring in a $300 deposit cheque made out to TA Blakelock Highschool that will be returned to you at the end of the season when you have returned your gear in acceptable condition.
One final note: our goal as a coaching staff is always to maximize participation, so if there are any concerns about joining the team please feel free to come see a coach during the day or contact us directly via email. Football is a sport for everyone and we want everyone to have the opportunity to give it a try.
Go Tigers!!!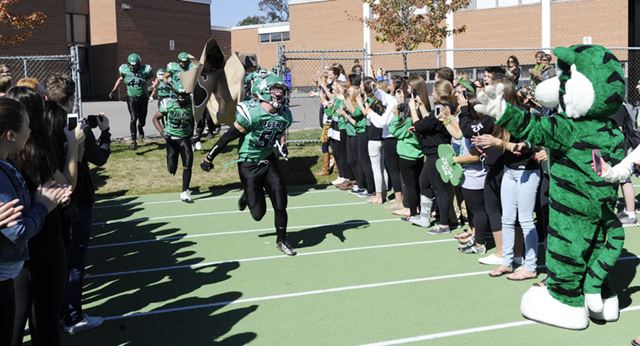 TAB Football welcomes all students to join us on the field from the beginning of the year through to the playoffs in mid November. We begin each season with the goal of running junior and senior teams and have an open-door policy with newcomers - whether you are a seasoned vet, an athlete from another sport looking to branch out or someone who is simply curious about football we have a place for you. It's never too late, come out and learn!
Safety is our number one priority and both teams have seasoned coaches with first aid and safe contact training provided by the Halton District School Board. 
This training as outlined by Football Canada will be an emphasis throughout the season. 
Players must attend a minimum of 8 practices before playing in a game and our practices revolve around skill-building, tactics, strength/conditioning and safe conduct on the field.
Both teams offer early equipment handout and registration the week before school starts - an update with specific dates and times will be posted in August.
Feel free to contact any of the coaches directly or via email if you have any questions.
Ian Beaupre - Beauprei@hdsb.ca
Jason Kana - KanaJ@hdsb.ca
James Stainton - Staintonj@hdsb.ca
Ross Sumner - Sumnerro@hdsb.ca