Tigers Football 2017
VARSITY ANNOUNCEMENT!
Due to low numbers for both Sr. and Jr. Football programs, the athletic department in conjunction with coaches and administration have decided to move forward with a Varsity program.  This program will include players from grade 9's through grade 12.  As  previously outlined, coaches will be emphasizing safe practices for all athletes. This includes the safe contact training as outlined by Football Canada.  
We would like to dispel any and all misunderstandings, but at the forefront;  Players will not be allowed to transfer to other schools to play football.  
Any other Varsity specific questions can be forwarded to Pam Bovey: boveyp@hdsb.ca 
Please feel free to contact the coaches via email if you have any questions or concerns.
Ian Beaupre - Beauprei@hdsb.ca
Ken Butler (SR contact) - Butlerk@hdsb.ca
Jason Kana - KanaJ@hdsb.ca
James Stainton (JR contact) - Staintonj@hdsb.ca
Ross Sumner - Sumnerro@hdsb.ca
The coaching staff at TA Blakelock are looking forward to a great 2017 season! A few things to know before the season begins:
F
or 
any new players interested in playing or trying football this year
...... Newcomers are encouraged as this is a great opportunity to try the sport with no strings attached.
Safe contact training as outlined by Football Canada will be taught throughout training camp and will be an emphasis throughout the season.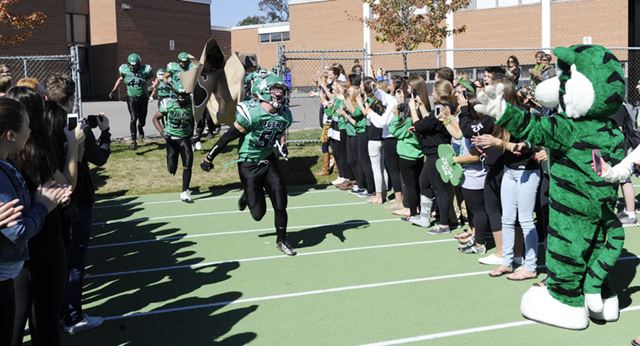 TAB Football welcomes all students to join us on the field from the beginning of the year through to the playoffs in mid November. We run both Junior and Senior teams in tier 1 and have an open-door policy with newcomers - whether you are a seasoned vet, an athlete from another sport looking to branch out or someone who is simply curious about football we have a place for you. It's never too late, come out and learn!
Safety is our number one priority and both teams have seasoned coaches with first aid and safe contact training provided by the Halton District School Board. Players must attend a minimum of 8 practices before playing in a game and our practices revolve around skill-building, tactics, strength/conditioning and safe conduct on the field.
Both teams run pre-season training camps the week before school starts.
Feel free to contact any of the coaches directly or via email if you have any questions.
Ian Beaupre - Beauprei@hdsb.ca
Ken Butler - Butlerk@hdsb.ca
Jason Kana - KanaJ@hdsb.ca
James Stainton - Staintonj@hdsb.ca
Ross Sumner - Sumnerro@hdsb.ca