Tigers Football 2018
Football Fees for the 2018 season are now due!
Football Fees/Documents
1.) $70 Athletic Fee (paid online and verified via receipt)
2.a.) $215 Returning Player Fee - players package only - (paid online and verified via receipt, Due Friday, Sept 28th)
OR
2.b.) $300 
New Player Fee
 - includes players package and jersey - 
(paid online and verified via receipt, 
Due Friday, Sept 28th
)
3.) $400 equipment Safety Deposit Cheque (will be returned upon equipment return, Due prior to receiving equipment)
5.) Complete 2018 transportation/Driver Form - currently unavailable but will be posted on this page once finalized - (Due prior to first game)
GO TIGERS!!!!!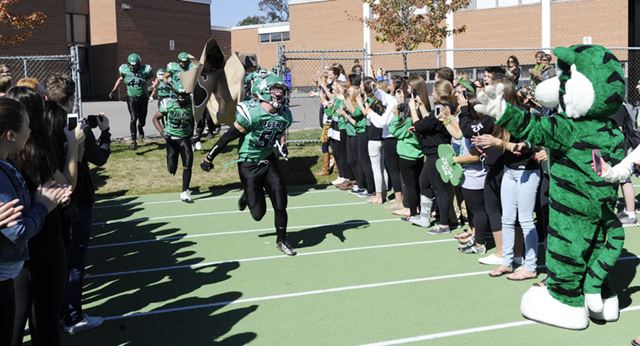 TAB Football welcomes all students to join us on the field from the beginning of the year through to the playoffs in mid November. We run both Junior and Senior teams in tier 1 and have an open-door policy with newcomers - whether you are a seasoned vet, an athlete from another sport looking to branch out or someone who is simply curious about football we have a place for you. It's never too late, come out and learn!
Safety is our number one priority and both teams have seasoned coaches with first aid and safe contact training provided by the Halton District School Board. 
This training as outlined by Football Canada will be an emphasis throughout the season. 
Players must attend a minimum of 8 practices before playing in a game and our practices revolve around skill-building, tactics, strength/conditioning and safe conduct on the field.
Both teams offer early equipment handout the week before school starts - an update with specific dates and times will be posted in August.
Feel free to contact any of the coaches directly or via email if you have any questions.
Ian Beaupre - Beauprei@hdsb.ca
Jason Kana - KanaJ@hdsb.ca
James Stainton - Staintonj@hdsb.ca
Ross Sumner - Sumnerro@hdsb.ca